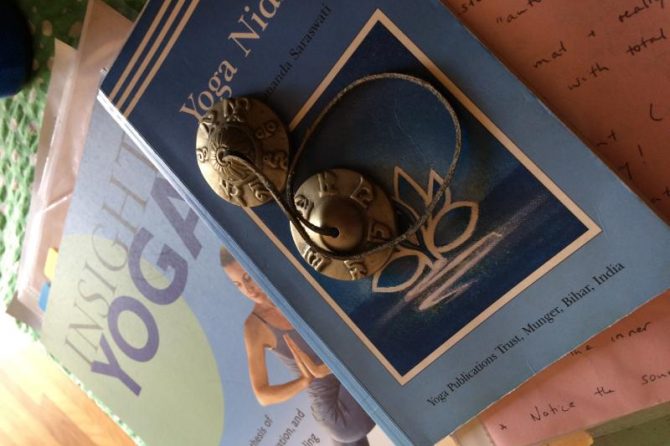 As I have been focusing quite significantly in my blog posts on matters of the heart and what we can do for ourselves as part of our self care I wanted to offer some suggestions for setting your Intentions, in Yoga 'speak' known as a Sankalpa. We use the practice of Setting Intentions and Sankalpa's during our Yoga Nidra classes and can also be used as your personal mantra and focus as part of your daily life. Many road blocks have been cleared by the power of the mind.
What is the Sankalpa?
The Sankalpa is a short, positive statement of something that you wish to achieve within a set period of time ( possibly 6-18months) possibly less or more, you will know when to set another and reframe a new intention. The Sankalpa is future focused but in this practice we frame the statement as if it is already happening, you are already enjoying the benefits of 'this' in your life. So the Sankalpa is set in the present tense.
As beginners to the Practices of Yoga Nidra and Intention setting it is sometimes challenging to come up with creative ideas. I know I still struggle to come up with creative and meaningful ways to build the life I desire.
I recently found a great article and a wonderful website that provided some excellent examples as well as some resources that I know I will find useful and  I am pretty sure you will too. https://www.lunanidra.com/
Categorising the Sankalpa's too is useful.
It was interesting to see how many categories the author of the referenced article Allyson Whipple, sited. Very creative indeed. See some examples below.
Activism
"I take actions to shrink my carbon footpring", " I work to create peace in the world", " I am capable of changing the world"
Contentment
"I am content", "I love my life", "I only take what I need"
Personal Evolution
"I am free to change my mind", I am free to change my life", "I am resilient"
Self Care and Self Love
" I feel at home in my body", "I speak kindly to myself", " I am a friend to myself"
Mindfulness
"I am present in every moment", "I focus on one task at a time.", "I pause before I act"
Yoga Nidra
is the Yoga practice fast  becoming more and more popular and mainstream in many yoga classes. A restful 30- 60 minutes of guided relaxation following a structured sequence around the body, breath awareness, body awareness, visualisations of many forms. Yoga nidra has allowed me to find so much inner stillness and it has also allowed me to be creative in my delivery.
I have been offering Yoga Nidra in my "slow yoga" classes for over 2 years now and it has grown in popularity beyond my expectations.
But, perhaps I set the intention and created the sankalpa
I am sharing my love of Yoga Nidra
Join me for Classes on Friday 1-2pm and NEW class Tuesday 12:30 – 1:30